Jun. 15, 2022
DB Unlimited Introduces Loudest 5x5x2mm Surface Mount Transducer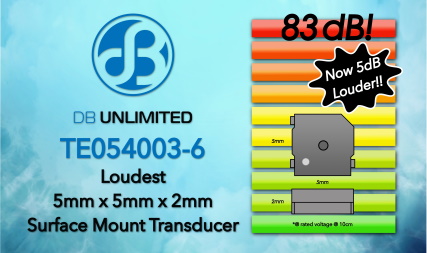 DB Unlimited Introduces Loudest 5x5x2mm Surface Mount Transducer
In the early 2000's, 5x5mm electro-mechanical transducers brought audible user feedback to the emerging world of handheld products.
However, as physics dictates, the space-saving design of these transducers meant sacrificing output.
Since that time, DB Unlimited has introduced both 4x4mm and 3x3mm electro-mechanical transducers, but again sacrificing output to save space.
Now we've gone back to the drawing board, putting our experience, advancements in technology and manufacturing processes together to develop our TE054003-6 – a new, 5x5x2mm, surface-mount, electro-mechanical transducer that is 5dB louder than any similar product or configuration.
DB Unlimited's TE054003-6 is ideal solution for louder user feedback in space-constrained handheld products and applications.
Key Features:
5x5x2mm surface mount transducer
Unmatched 83dB SPL versus transducers of similar size
Ideal for space constrained PCBs and maximum SPL product requirements