Oct. 11, 2021
DB Unlimited Introduces WB Line of Enclosed Waterproof Micro Speakers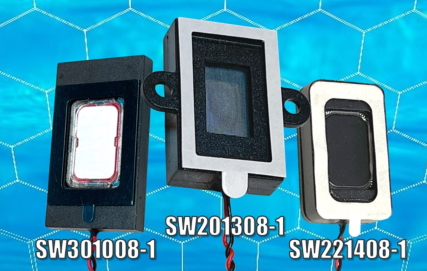 DB Unlimited Introduces WB Line of Enclosed Waterproof Micro Speakers
DB Unlimited's WB Line of enclosed waterproof micro speakers are a practical, effective crossover between their popular Agile, 67, and Power Micro Series of speakers.
With IP ratings of IP67 or better, front-facing waterproof adhesive and flange mounting configurations, as well as lead wires for connectivity, the WB Line of speakers are equipped to conquer both design challenges and the elements. They are ideal for everything from proof-of-concept designs to rugged production solutions. They greatly reduce the development time of audio applications and increase the manufacturability of critical design factors such as a tuned speaker back chamber, ingress protection and mounting. They are ideal for space-constrained, waterproof audio applications.
DB's WB speakers come in different sizes, mounting methods and sealed or ported chambers with an IP67-rated adhesive sealed face to give your design maximum flexibility and efficiency.
Key Features:
High-performance micro speakers in tuned, sealed or ported, enclosures
IP67-rated speakers and enclosures with front-facing waterproof adhesive
Height profiles as low as 3.7mm
92dB to 95dB SPL min
See all DB Unlimited WB speakers here